For more information on lexicon policies, please see here.
By the end of this guide, you will have:
Understood how to add and remove lexicons from your Dictionary in MirrorWeb Insight.
Prerequisites
Before starting this guide, please ensure that you have the following information:
Log-in credentials to MirrorWeb Insight
Keyword(s) to upload or keyword(s) to remove
Adding Lexicons
Navigating to the Dictionaries
Log into your MirrorWeb Insight Portal by navigating to https://my.mirrorweb.com.
From your Dashboard, hit Communications.
Click Lexicon, and then click Dictionaries.
Bulk Uploading Lexicons
Creating a New Dictionary
Hit Create Dictionary in the top right hand corner
You can copy and paste your dictionary straight from a Word Document, Excel File or CSV File. Please ensure that before copying words are on a separate line with no quotation marks or commas between them.
E.g.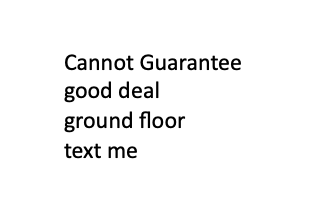 3. Copy your lexicons, and paste into the first highlighted cell within MirrorWeb Insight. This feature works like a spreadsheet.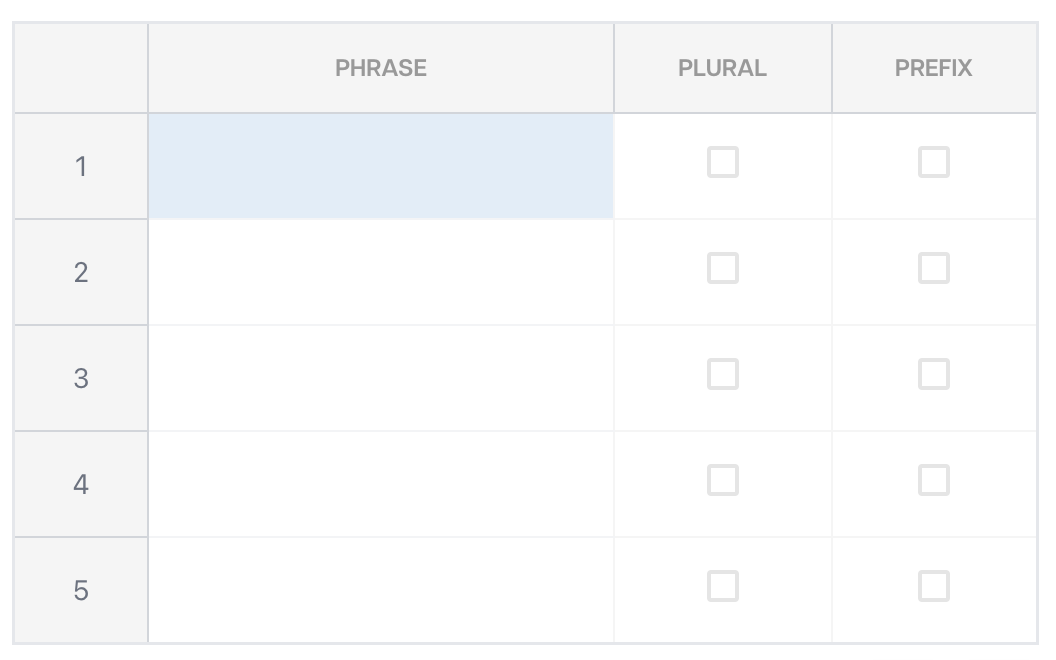 4. You now have the option to select for each word or phrase whether you would to pluralise it or add a prefix lexicon match:
Plural tells a policy to look for pluralized versions or the original term or phrase. Checking the plural option for the term "communication" would result in lexicon matches for the communication and communications.
Prefix is

wild card option that allows a lexicon policy to match any words that start with the word or phrase entered into the dictionary. E.g. "guarant" would match guarantor, guarantee, guaranteeing, guaranteed.
5. On the right-hand side, under Details select a Dictionary Name.
6. For match type, select All or Any:
All mode: in order for a dictionary selected as "All" to flag with a lexicon match, a message will need to contain each term or phrase specified in the dictionary.
Any mode:

any single term or phrase will flag a message if it is found in a message.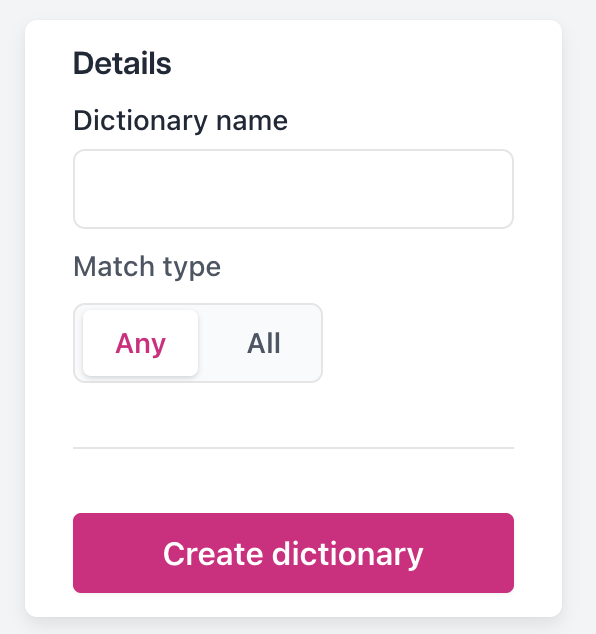 7. Select Create Dictionary.
To apply this dictionary to a platform, please navigate to Policies to create a policy for your Dictionary.
Modifying a Dictionary
Modifying lexicons within the dictionary, this feature works similar to a spreadsheet.
To add any individual lexicons, hit the "+" button at the bottom of your dictionary list and select the cell and type in your new lexicon. You can always hit enter to create a new row if required.
To remove

any lexicons, click the keyword you want to remove and hit "backspace" on your keyboard.

To modify a lexicon already in your dictionary, select the keyword and hit enter. Now you will be able to type in the cell.