If you have Enterprise Edition of Google Workspace, please refer to the following set of instructions: https://support.google.com/a/answer/7276605?hl=en. Please note, these are external instructions from Google and may be subject to change.
This guide walks you through archiving your entire tenant for email archiving. If you require only selected users in your tenant captured, please refer to the Google Workspace Archiving document for selected users.
By the end of this guide, you will have:
Configured email archiving on your Google Workspace account for all users within your tenant.
Prerequisites
Before starting this guide, please ensure that you have the following information:
You must be an administrator on your Google Workspace tenant. If you are not a Google Workspace administrator, please send this guide to a member of your IT staff with the correct privileges. Please see Who is my administrator?.
You will need a journal feed address (JFA) that you will have received for email archiving from your Client Onboarding Specialist. This will be in the format xxx@us.mirrorwebmail.com. If you have not received a journal feed address, please contact our onboarding team at onboarding@mirrorweb.com, or request one from your Customer Success Team. If you would like to add Email Archiving to your account, please contact our Customer Success Team at: customersuccess@mirrorweb.com and we will be happy to assist.
Adding a New Route
In any web browser, go to admin.google.com. Sign in using your administrator account (does not end in @gmail.com).
In the Admin console, go to Menu AppsGoogle WorkspaceGmail Hosts.
Click Add Route.
In the Add mail route box, take these steps:


| | |
| --- | --- |
| Setting Option | Action Needed |
| Name | MirrorWeb Insight |
| Enter a host name or IP | Paste: us.mirrorwebmail.com. |
| :25 | Type :25 |
| Perform MX lookup on host | Please check this box. |

At the bottom of the

Add mail route

box, click

Save.
Google note that changes can take up to 24 hours but in most cases happen more quickly.
Example: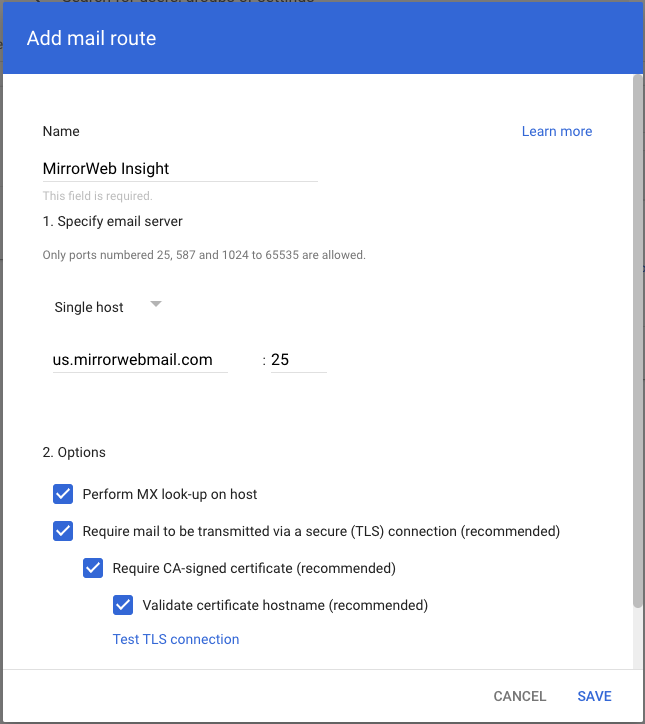 Adding a Route Setting
Navigate to Routing : Apps Google Workspace Settings for Gmail Routing.
Click Configure

Setting Opt

ion

Action Needed

Name
MirrorWeb Insight
Email Messages to affect
Inbound, Outbound, Internal - Sending, Internal - Receiving
Add more recipients
Select the check box & click add when this appears
3. Paste in the Journal Feed Address within Add Setting but do not click save.
Example: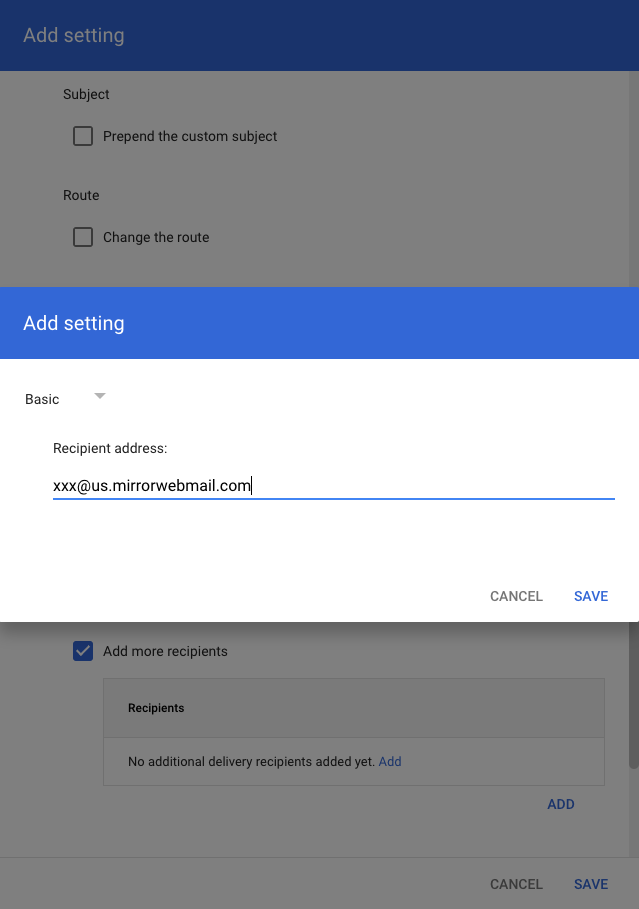 5. Select the Basic dropdown and change to Advanced.
Setting Option

Action Needed

Route
Change Route, Select MirrorWeb Insight (

Do not select Change Route elsewhere in the settings other than within Advanced)

Envelope Recipient
Change Envelope Recipient
When you change Envelope Recipient, your journal feed address will automatically populate.
Example: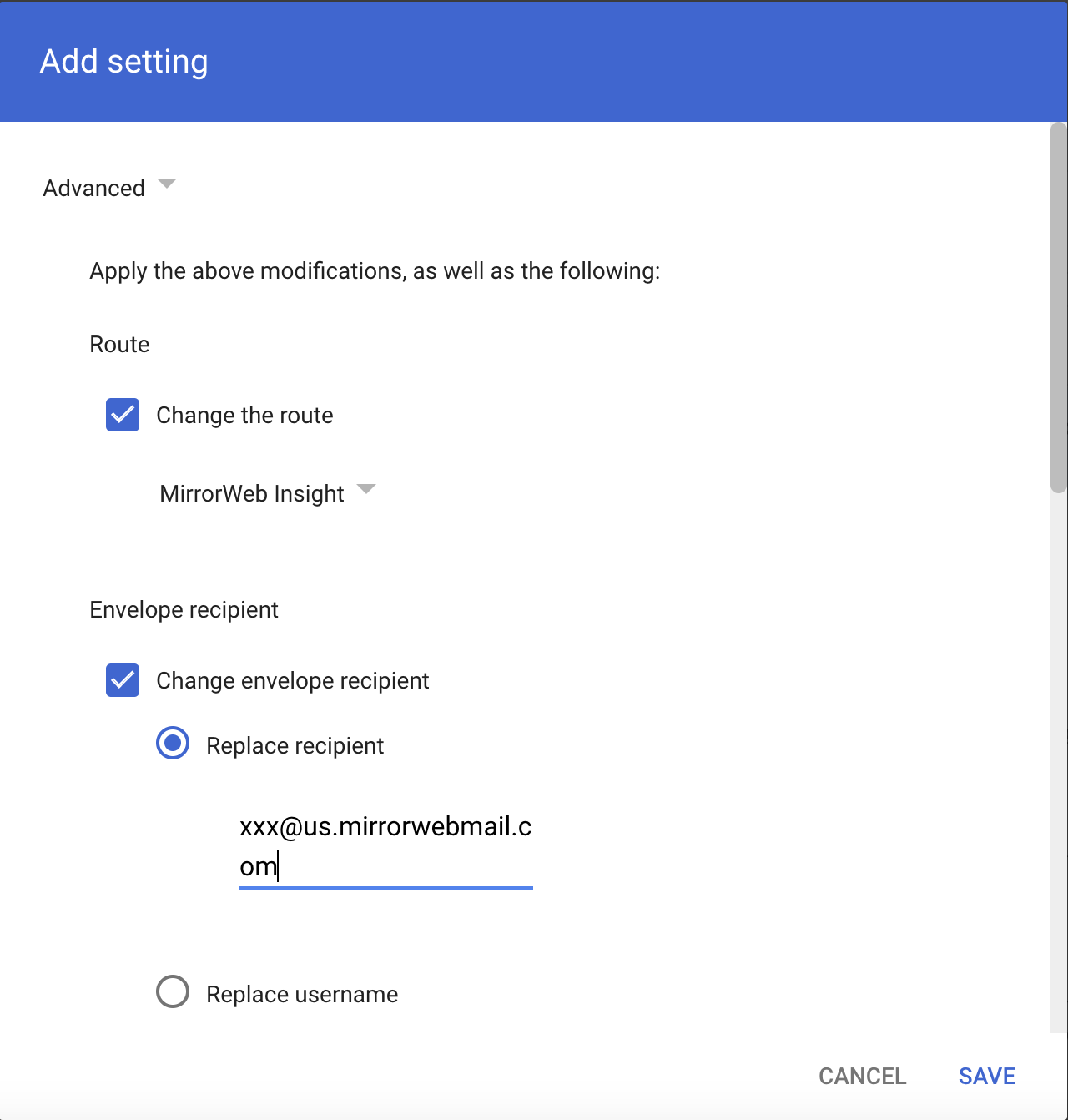 6. Click Save
7. Configuring full tenant email archiving on Google Workspace is now complete. Please contact your Onboarding Engineer to continue the MirrorWeb onboarding process.